Fantasmagoria Maquínica
Mídia e memória no design sonoro dos jogos digitais
Palavras-chave:
Ecologia das mídias, Memória audiovisual, Jogos digitais, Desenho sonoro, Ruídos
Resumo
Ao longo do desenvolvimento histórico de novas tecnologias, os ruídos operativos e não-intencionais de cada meio foram sendo absorvidos como parte dos repertórios estéticos dos meios audiovisuais. Na medida em que a eletricidade tornou-se um condutor cotidiano de energia, a sonoridade das falhas elétricas passou a coabitar o parque sonoro de rangidos e colisões que compunham o milieu mecânico. No design sonoro contemporâneo, os estalidos elétricos e os sons de motores coexistem com uma vazão de novos ruídos proporcionados pelas tecnoestéticas digitais. Neste artigo, a partir do caso dos jogos digitais, propomos pensar estes fantasmas da memória das mídias como processos de criação, contrapondo um entendimento dominante da memória audiovisual enquanto apenas um acervo a ser preenchido.
Downloads
Não há dados estatísticos.
Referências
K GAMES. Spec ops: the line. 2012 [videogame].
AUGOYARD, J. ; TORGUE, H.Sonic experience: a guide to everyday sounds. Montreal: McGill-Queen's University Press, 2006.
BAYLESS, R.; Rogo, S. Phone calls from the dead.New York: Berkley, 1979.
BERGSON, H. A evolução criadora. São Paulo: Martins Fontes, 2005.
BRAGUINSKI, N. The resolution of sound: understanding retro game audio beyond the '8-bit' horizon. NECSUS European Journal of Media Studies, v. 7, n. 1, p. 105–121, 2018.
CANNAN, C.; LANDONE, C.; SANDLER, M. Sonic Visualiser: an open source application for viewing, analyzing and annotating music audio files. In: Proceedings of the ACM Multimedia 2010 International Conference. ACM International, p. 1467-1468, 2010.
CHION, M. A audiovisão: som e imagem no cinema. Lisboa: Texto&Grafia, 2011.
COLLINS, K. Game sound: an introduction to the history, theory and practice of video game music and sound design. Cambridge: MIT Press, 2013.
COOK, N.; LEECH-WILKINSON, D. A musicologist's guide to sonic visualizer. Londres: Center for the History and Analysis of Recorded Music, 2009. Disponível em: http://www.charm.rhul.ac.uk/analysing/p9_1.html.
DAVIS, E. Techgnosis: myth, magic and mysticism in the age of information. New York: Harmony Books, 1998.
DELEUZE, G. A ilhadeserta. São Paulo: Iluminuras, 2009.
DEVINE, K. Imperfect sound forever: loudness wars, listening formations and the history of sound reproduction. Popular Music,v. 32, n. 2, p. 159-176, 2013.
DUBOIS, P. Cinema, video, Godard. São Paulo: Cosac Naify.
ELECTRONIC ARTS (2008). Mirror's Edge [videogame].
ELECTRONIC ARTS.(2016). Battlefield 1 [videogame].
FLUSSER, V. Comunicologia. São Paulo: Martins Fontes, 2015.
FLUSSER, V.O mundo codificado. São Paulo: CosacNaify, 2007.
FLUSSER, V. On memory (electronic or otherwise). Leonardo, v. 23, n. 4, p. 397-399, 1990.
FUCHS, M. Phantasmal spaces: archetypical venues in computer games. New York: Bloomsbury, 2019.
KELLY, C. Cracked media. Cambridge: MIT Press, 2009.
KITTLER, F. Optical media: Berlin lectures 1999.Londres: Polity, 2010.
KOHATA, S., SHINDO, M. The spatial acoustics of Nier: Automata. Audiokinetic Blog. Montreal, 4 dez. 2018. https://blog.audiokinetic.com/the-spatial-acoustics-of-nierautomata-and-how-we-used-wwise-to-support-various-forms-of-gameplay-part-1/.
KONAMI (2014). Metal Gear Solid 5: Ground Zeroes [videogame].
KRAPP, P. Noise channels: glitch and error in digital culture. Minneapolis: Minnesota University Press, 2011.
KRAPP, P. Seminário Déjà vu: aberrações da memória cultural. Notas. Universidade do Vale do Rio dos Sinos, 2018.
LEVIN, T. Y. "Tones from out of nowhere": Rudolph Pfenninger and the archaeology of synthetic sound. Grey Room,v.12, p. 32–79, 2003.
LUERSEN, E. H.;MASCHKE, G. M. Erro e ruídona tecnocultura contemporânea - Entrevista com Peter Krapp. Galaxia, n. 39(set/dez), p.15-22, 2018.
LUERSEN, E. H. Ressonância tecnocultural: rastros da ambiência contemporânea nas sonoridades dos jogos digitais. Tese (Doutorado em Ciências da Comunicação) - Universidade do Vale do Rio dos Sinos, 2020.
MAHER, R. Audio forensics examination. IEEE Signal Processing Magazine, v. 26, n. 2, p.84-94, 2009.
MANOVICH, L. The language of new media. Cambridge: MIT Press, 2001.
MATTERN, S. Auscultação urbana: ou percebendo a ação do coração. Rua, v. 26, n. 2, p.385-411, 2020.
MOHOLY-NAGY, L. Production-Reproduction. De Stijl, v. 5, n. 7, p.98-101, 2020, 1922.
PETTMAN, D. Sonic intimacy: voice, species, technics (or, how to listen to the world). Stanford: Stanford University Press, 2017.
PHILLIPS, W. A composer's guide to game music. Cambridge: MIT Press, 2014.
RAUDIVE, K. Breakthrough: an amazing experience in electronic communication with the dead. Buckinghamshire: Smythe, 1971.
RILKE, R. M. Sämtliche werke. Frankfurt: Insel, 1955.
SCHAFER, R. M. A afinação do mundo. São Paulo: Unesp, 1997.
SCHNEIDER, B. On hearing eyes and seeing ears: a media aesthetics of relationships between sound and image. In: Daniels, D., Naumann, S. (Eds.). Audiovisuology, a reader, Vol. 1: Compendium, Vol. 2: Essays. Köln: Verlag Walther König, p. 608-633, 2015.
SHAW, D. B. Technoculture: the key concepts. Oxford: Berg, 2008.
SMALLEY, D. Spectromorphology: explaining sound-shapes. Organised Sound, v. 2, n. 2, p. 107-126, 1997.
Square Enix (2017). Nier: Automata [videogame].
STIEGLER, B. Technics and time 3: cinematic time and the question of malaise. Stanford: Stanford University Press, 2011.
STUDIO MDHR (2017). Cuphead [videogame].
SWEET, M. Writinginteractivemusic for videogames. Indiana: Pearson, 2014.
WEISSBERG,J.Do real ao virtual.In:Parente, A. (org.). Imagem-máquina: a era das tecnologias do virtual. São Paulo: Editora 34, 1999.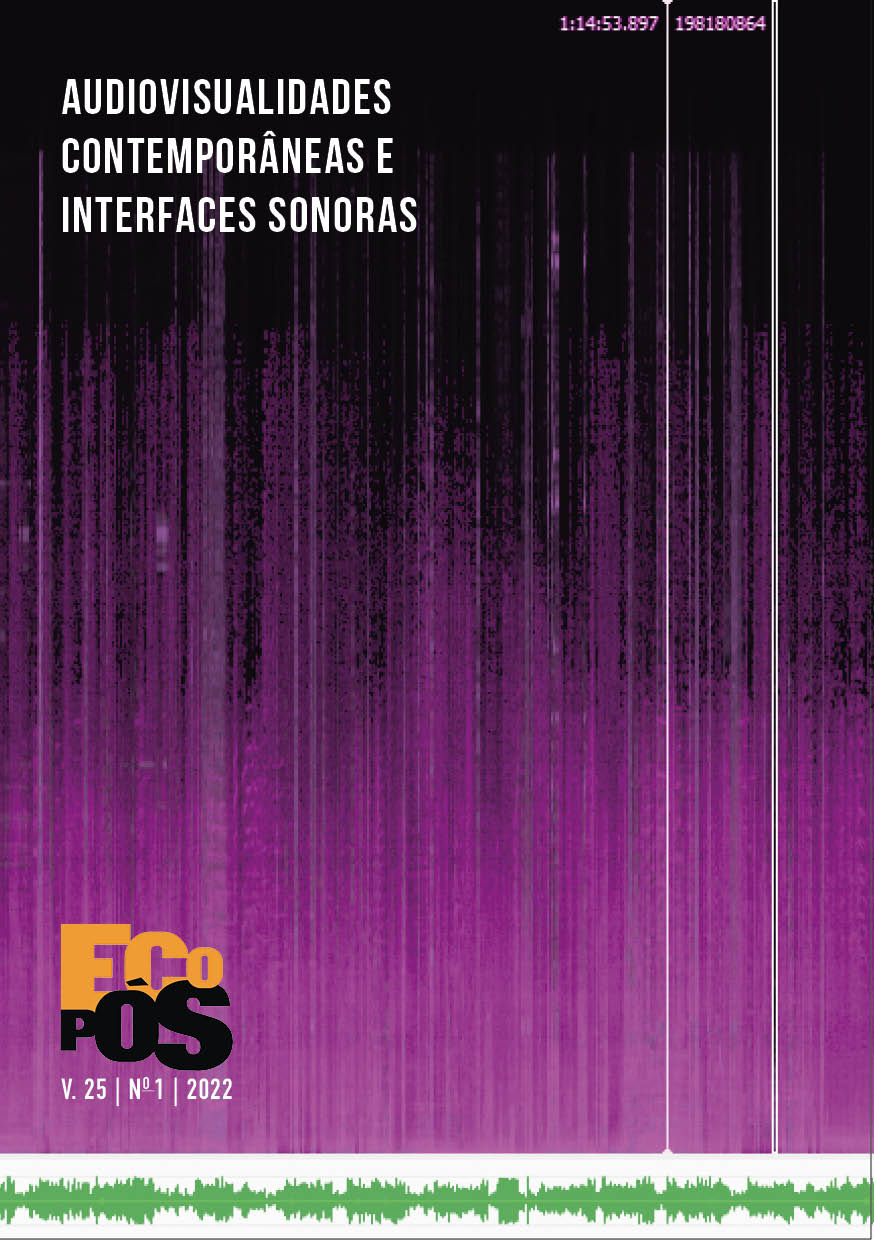 Downloads
Como Citar
Luersen, E. H. (2022). Fantasmagoria Maquínica: Mídia e memória no design sonoro dos jogos digitais. Revista Eco-Pós, 25(1), 223–248. https://doi.org/10.29146/ecops.v25i1.27819
Licença
Copyright (c) 2022 Revista Eco-Pós
Este trabalho está licenciado sob uma licença
Creative Commons Attribution 4.0 International License
.